We have run the Box Tops 4 Education program since 2004 and have raised over $11,800, and we can't stop there! Please encourage your friends and family to be "Box Top Detectives" and have your child turn them in to the school regularly. Unfortunately, they do expire so the sooner they come to school the better. We will be holding competitions for Box Top collectors and will award prizes throughout the year.
What are Box Tops?
Box Tops are on a variety of grocery and household products. Each BoxTop is worth 10 cents when redeemed with Box Tops for Education.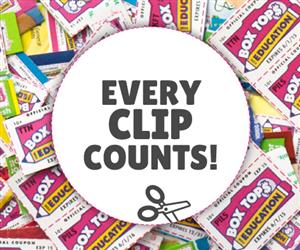 Why should I collect Box Tops?
What could be an easier way to earn money for your child's class? It's a painless fundraiser and you don't have to end up with items you wouldn't otherwise want. All money earned through Box Tops is saved and deposited into the class accounts. The intent is that this money will be used during your student's senior year to offset or completely pay for their class trip or other costs that come along senior year. Don't throw away money by throwing away your Box Tops.
What do I need to do?
All you need to do is look for them on a package before you toss it out, clip it, save it in a safe place (such as a Ziploc bag or envelope in your cupboard or hanging on your fridge).
Make sure you don't clip any information off the coupon. Only complete and non-expired coupons can be deposited. See below.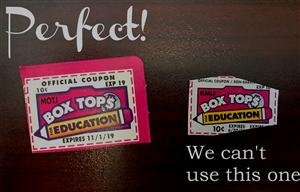 Simply collect them in an envelope or Ziploc bag, write your student's name, teacher name and grade level on the bag or envelope and then send it into school with your student at least once a month. Which leads us to this…
Clipping Tips from Your Coordinator:
Hang a sandwich bag or envelope from your fridge or cabinet door. When you eat or use the last of the product, clip the coupon from the product and put it in the bag. A good visual to help you remember to clip the coupons!

No need to write your name on each label! That takes forever!! You only need to have your name, teacher name and grade level on your bag or envelope.

Turn you sandwich bag or envelope in monthly. Remember to write your name, teacher name and grade level on the bag or envelope before you drop it off. We want to give the money to the right account! Also, helps us from losing out on money due to close expiration dates.
Prizes Galore!
We will hold monthly drawings for prizes. Prizes and drawings will be different each month, so stay alert to announcements and flyers coming home.
September- our drawing will be for a 5-Minute Star Wars Stories book and a Finding Dory book and sticker collection. All you need to do is turn in a bag of Box Tops and you will be entered to win! Drawing will take place on September 29th! Start Clipping & Good Luck!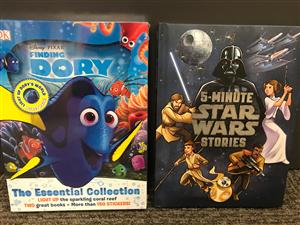 Where can I learn more?
You can sign up to support our school at www.btfe.com. You'll get updates on our school's earnings, money saving coupons, family-pleasing recipes, chances to win Bonus Box Tops for our school and other Box Tops news!
This is NOT just a program for the Elementary School. Students can keep clipping Box Tops and earning money throughout high school, too!
Our Box Top Goal!

This year (2017-2018), our goal is to raise $2000 which will be deposited into each class's accounts. Here are two easy ways you can help:

Clip --- Clip the Box Tops from hundreds of participating products and send them to school. Each one is worth 10¢ when our school redeems them from Box Tops for Education.

Sign up --- to support our school at boxtops4education.com
See how much our school is earning with Box Tops

Enter online promotions for chances to win eBoxTops and other prizes

Print coupons for your favorite Box Tops brands

Sign up for Box Tops email newsletters that will keep you updated on the program
To learn more, visit
www.boxtops4education.com
or contact Mrs. Chase at the high school. Thanks for choosing to make a difference for our school with Box Tops!
Stacy Chase, Box Tops Coordinator at Pine Valley
High School Guidance Secretary, ext 4334