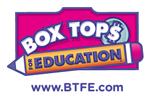 We have run the Box Tops 4 Education program since 2004 and have raised over $8,600, but I believe we can do more. Please encourage your friends and family to be "Box Top Detectives" and have your child turn them in to the school regularly. Unfortunately, they do expire so the sooner they come to school the better. We will be holding competitions for Box Top collectors and will award prizes throughout the year.
I will also be asking for volunteers to be on the Box Tops Committee. These volunteers will help with spreading the word about Box Tops and help collect and submit Box Tops. In turn, students will receive community service hours, which is a Pine Valley graduation requirement. If your child is interested in volunteering, they should see Mrs. Chase in the high school Guidance Office.
This year (2015-2016), our goal is to raise $2000 which will be deposited into each class's accounts. Here are three easy ways you can help:
Clip
— Clip the Box Tops from hundreds of participating products and send them to school. Each one is worth 10¢ when our school redeems them from Box Tops for Education.
Shop Online
— Shop at your favorite online stores through the Box Tops Marketplace® (boxtops4education.com/marketplace). Our school can earn eBoxTops® with every qualifying purchase you make, at no additional cost to you. (A great idea if you do a lot of shopping online!)
Sign up
to support our school at
boxtops4education.com
See how much our school is earning with Box Tops

Enter online promotions for chances to win eBoxTops and other prizes
Print coupons for your favorite Box Tops brands

Sign up for Box Tops email newsletters that will keep you updated on the program
To learn more, visit
www.boxtops4education.com
or contact Mrs. Chase at the high school. Thanks for choosing to make a difference for our school with Box Tops!
Stacy Chase, Box Tops Coordinator at Pine Valley
High School Guidance Secretary, ext 4334