Return to Headlines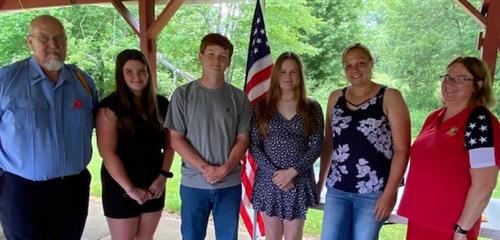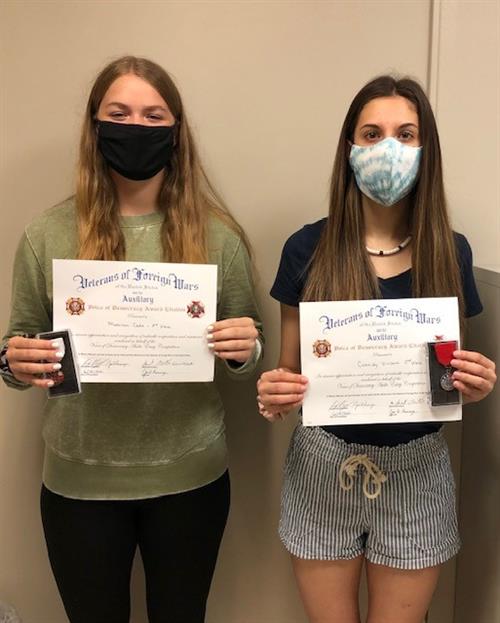 Pine Valley Memorial VFW Post 2522 announces their Voice of Democracy, Patriot's Pen and Teacher of the Year from Pine Valley Central School District. The Commander, Joseph Westling, of Pine Valley Memorial VFW Post 2522 hosted a luncheon on June 13th at the Pine Valley Memorial VFW Post in Cherry Creek New York to honor the winners.
Established in 1947, our Voice of Democracy audio-essay program provides high school students with the unique opportunity to express themselves in regards to a democratic and patriotic-themed recorded essay. Each year, nearly 64,500 9-12 grade students from across the country enter to win their share of more than $2 million in educational scholarships and incentives awarded through the program. The 2020-2021 Voice of Democracy theme was, "Is This the Country the Founders Envisioned?" Winners from PVCS are the following with over 60 entries.
1st place Allyson Morey- Grade 10th. She also took 1st place at County and District 6 Level.
2nd place Cassidy Vincent- Grade 11th
3rd place Mattison Cadle- Grade 11th
4th place George Kruszka III- Grade 10th
Each year more than 165,400 students in grades 6-8 enter the VFW's Patriot's Pen youth essay contest for a chance to win their share of more than $1.4 million in state and national awards. Each first-place state winner receives a minimum of $500 at the national level, and the national first place winner wins $5,000! The 2020-2021 Patriot's Pen theme was, "What is Patriotism to Me?" Winner from PVCS is the following with over 8 entries.
1st place Danielle West- Grade 8th
Without our nation's veterans, America wouldn't be the great nation it is today. Our youth deserve to learn about our rich history, traditions and the role of our veterans in creating and shaping America. Each year, the Veterans of Foreign Wars selects elementary, middle, and high school teachers to participate in the Smart/Maher VFW National Citizenship Education Teacher program. Winner from PVCS is Angela Bittinger- Social Studies Teacher in the Jr./Sr. High School. She took Frist- Place Local and County. Second Place at District 6.