Return to Headlines
People Behind the Panther
This feature spotlights a different Pine Valley staff or faculty member every week.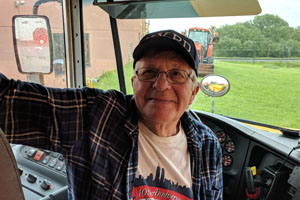 Mr. Newcomb
Bruce Newcomb is one of Pine Valley's long time bus drivers and he enjoys working in his hometown after being away for over 30 years. Safety is his top priority, but that doesn't stop him from going the extra mile for his students.
"I try to take things seriously becase there is a line you have to draw, but I also try to humor the kids and do special things for them, like give our candy," says Mr. Newcomb.
Although he is transporting students to and from school, that is only a glimpse into his work with students.
"I want to keep going as long as I can, so that I can help teach the kids the right way," says Newcomb. "I'm very flexible and I get along with them. I enjoy it."
---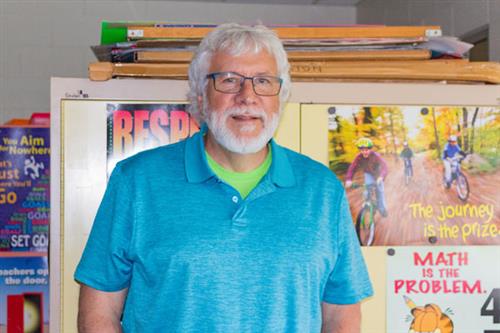 Mr. Saxton
David Saxton is Pine Valley's AIS math teacher. He has been working in the District for 28 years and is also the girls' varsity soccer and girls' varsity softball coach. Students in his class develop different strategies for learning.
"My job is to get the kids caught up, whether they are a little bit behind or quite a bit behind. I figure out strategies to help them figure out the skills that they need," says Mr. Saxton. "One student might learn a lot different than another student, so our big push is personalized learning, and I am constantly trying new things with my students."
Although he is helping students who have fallen behind, that is only a glimpse into his work with students.
"I've had kids write me letters years later to thank me. That's when it's all worthwhile. Just having someone say I made a difference and I really helped them is what it's all about," says Mr. Saxton.
---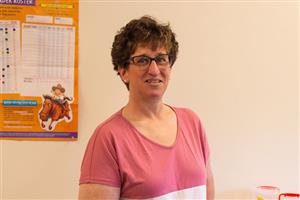 Mrs. Abers
Fifth grade teacher Holly Abers has been teaching at Pine Valley Elementary School for 20 years. As a Pine Valley alumna, she enjoys working in the District in which she was raised.
"I love Pine Valley because its home. I started kindergarten here and graduated here, so it's like I never left," she says.
Mrs. Abers invests so much into each of her students. Because she teaches math and science, she gets to see every fifth-grader throughout the day. According to her, "It's a great opportunity to know all of the students."
"Learning goes far beyond academics," says Mrs. Abers. "It's about the whole student, and every student is different. As they grow up, I just hope that they remember that I cared."
Thank you for all that you do, Mrs. Abers!
---
Mr. Habermehl
Isaac Habermehl is Pine Valley's agricultural teacher. He has been teaching in the District since 2002. Students in his classes learn about plant and animal science, wildlife management, engineering and welding. He is also the District's trap coach.
"We've got a strong agricultural community that's supportive of the program," says Mr. Habermehl. "A lot of other schools don't have a land lab out back. We have 10 acres of woods we do maple syrup on. We've got one of the larger shop areas, too, compared to other schools."
As with other programs, Mr. Habermehl prepares his students for a rapidly changing world. "The business side of things has really changed where it's gone from cows, plows and sows (as people say) to now where we have a lot more automation, robotics, [GPS]," according to Mr. Habermehl. "Just the amount of information they need to know and just how rapidly everything is changing every day. Farms are getting larger, but the farmer has to get smarter."

---
Mrs. Himes
Vocal Instructor Mary Kay Himes has been teaching chorus and music classes in the District for two years. She also teaches drama and leads fifth- and sixth-graders in the Treble Cats select choir.
"I enjoy the fact that I get to work with so many different students," says Mrs. Himes. "I get to work with middle school and high school in addition to elementary. So, I get to cover all of the grade levels. Yeah, I love it."
While you may see her directing a concert or musical, the performances are only a glimpse into her work with students.
"So much growth and maturity in their voices and who they are as students happens in the rehearsal space during the day," according to Mrs. Himes. "As exciting as those performances are, that's such a small part of what these students can accomplish."

---
Mrs. Milliman
Leslie Milliman is a cook at Pine Valley and has been in Cafeteria Services since 1988. She enjoys working for the same district in which she, her children and her grandchildren have been raised.
Mrs. Milliman's favorite part of the day is serving breakfast to students. "As they're going through the line, you can see how things are going and what's going on," she says. Later in the morning, she helps prepare lunches for both the Elementary School and the Jr./Sr. High School.
"It's like a family," says Mrs. Milliman. "And anybody would do anything for anybody here. They would. I really believe that."


---
Mr. Barnes
A member of the Class of 1979, Custodian Ed Barnes has been working at Pine Valley for over 20 years. He is part of the team that maintains the district's facilities and keeps them beautiful for our students.
"One of the better parts of my day is first thing in the morning when the kids coming in, because I usually stand in the hall waiting for them and say good morning, hi, how are you doing," says Mr. Barnes. "There's kids that are in their 40s now, almost 40, that remember me from the school. They ask me how I'm doing."
Thank you for the work that you do Mr. Barnes!
---
Ms. Colburn
Brianna Colburn is the elementary school secretary and an alumna of Pine Valley. While she is busy gathering lunch counts, writing passes or making sure kids are getting on and off the buses safely, she is also building positive relationships with students.
"The UPK and kindergarten classes, when they come down and get their bus passes at the end of the day, half of them don't like to talk," says Ms. Colburn. "We start conversations with them and get them to talk, be polite, and say please and thank you. That's always fun."
#PeopleBehindThePanther