Return to Headlines
Pine Valley Debuts Story Walk At Elementary School
SOUTH DAYTON — Thanks to the creativity of a few dedicated administrators and teachers, Pine Valley Central School has — literally — constructed a pathway to foster a love of reading for students and families alike.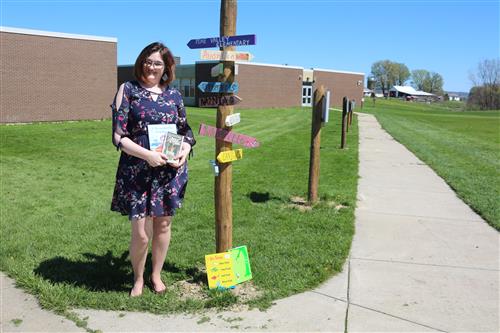 The district held an official grand opening for its new "Story Walk" on Tuesday, May 17 as part of its "Creativity Night," which also featured a talent show and various arts and crafts activities. Located behind Pine Valley Elementary School, the walk spans the perimeter of the school, creating an interactive reading experience by taking walkers page-by-page through classic children's books.
Hazel Morrison, a special education teacher at Pine Valley Elementary School, served as the project's coordinator. An avid reader, the opportunity to exercise her creative muscles was an opportunity she didn't want to balk at.
"I had participated in story walks before but I have an innate love of reading and I wanted to share that with students," she said. "That's all I put in my interest letter."
More than just providing your typical reading experience, "story walks" provide an interactive learning experience. Each page of the story has question prompts to help students think about the story and allow families to talk about the book together. These prompts aim to reinforce critical thinking skills and help improve reading comprehension.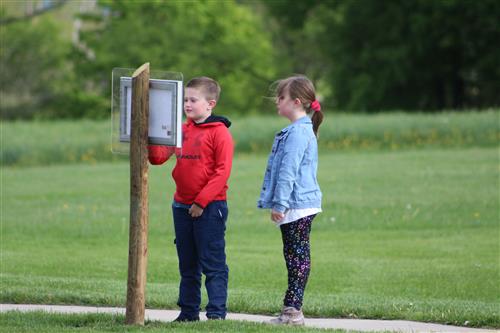 Morrison gameplanned with district superintendent Bryna Moritz, former school business executive Jamie Rodgers, director of facilities David Vanzile, and elementary school principal Brandi Meacham throughout the winter months.
"We talked about what the vision was for it," Morrison said. "They left it up in the air for me to have creative control which is really awesome. By the time we had that meeting, I knew what the first book I wanted to do was and some of the things I wanted to have the kids do interactively with the book."
Beyond simply picking book titles and designing the different page panels, Morrison let her imagination wander even more, going as far as to encourage walkers to "get lost in a book."
"I designed different direction posts to 'Oz' and 'Narnia' and other literary locations," she said. "I even included one as an ode to my favorite book, 'Anne of Green Gables.'"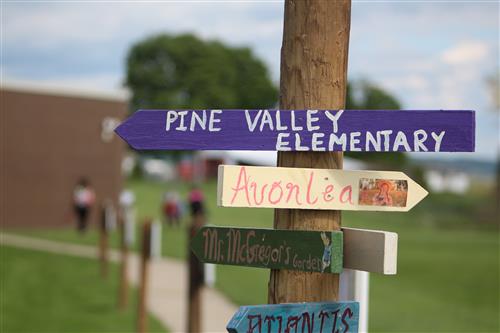 The first book posted on the walk was "One Fish, Two Fish, Red Fish, Blue Fish" by Dr. Seuss as a "soft opening" for Pine Valley classes to enjoy. To celebrate its grand opening, Morrison chose "The Giving Tree" by Shel Silverstein as well as a poem by Fred Rogers of "Mr. Rogers' Neighborhood." A lending library is also included at the end of the walk for students and families to give a book and take a book as well as a QR code that will link teachers or community members to a feedback survey.
"My goal is to provide these classic literature pieces that these kids might not get to read," she said. "Some families don't always read with their students. I want to provide these so that we can expose students so that they can experience the love of reading all around them."
Morrison is grateful for Pine Valley administration's willingness to support creative initiatives.
"I think it is so amazing that our leaders can be insightful enough to say, 'I think we should give this a try, let's see who jumps at this opportunity and takes this opportunity to showcase our creativity,'" she said. "I think it's forward thinking to even have leaders who entertain the idea, let alone spend time and money and effort to put everything up."
Now that the walk is open, Morrison is excited to see how it grows.
"I have a vision of what could be with the younger grades to focus on the younger grades," she said, but noted that she hopes to provide similar resources for older students.
"I have this vision of taking some of these classic stories so that they can be pulled into these stories, so they get that excitement of reading," she said. "It's never too late to create a love of reading."