Shop the Annual CIA Gift Card Fundraiser!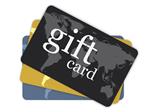 Different than any other fundraiser; with NO inflated prices.

The CIA purchases gift cards through a company called Scrip. This company kicks back a percentage rebate to the CIA for each gift card purchased which will then be used for our students. You will get the FULL face-value of the gift card you purchase, and the rebate is sent to CIA.

For example: If you purchase a $50 Applebee's gift card, you get the full $50 gift card AND CIA gets 8% back or $4, which we can use for future student activities and scholarships.

IT'S THAT EASY! Don't buy gift cards anywhere else!

Take a look at our order form ↓ BELOW ↓ for a full list of available retailers below!

Drop your order and payment in the mail (address on the order form) or give your's to a CIA member. Checks should be made out to "Community in Action".

Orders must be received by December 6th and will be ready for pick up by December 15th. We will offer a pick up in the school parking lot from 6:00-7:00 pm on 12/15.

Your support means a lot to us!!

Please email us at pvcs.cia @ gmail.com if you have any questions!!